Welcome to AlumNetworks members
You are eligible for exclusive discount
Gold Standard, No-compromise
eldercare at home across India
Bringing peace of mind
and happiness to families
Care, Like Sons and Daughters would do!
Since 2016 Samarth has been working with the elderly community in India and leading the way in building a sustainable eldercare ecosystem.
Our unique approach of caring like a son or daughter has helped us establish the gold-standard in elder care at home: care that is comprehensive, personalised and proactive, just like from child to a parent.
Our care teams, based in more than 75 cities of India, work to help the elderly lead a life of dignity and confidence at their home, addressing their physical as well as social and emotional needs, and ensure complete peace of mind for their children. Indians in more than 30 countries trust Samarth with care of their parents.
Every family is supported by a team of professionals led by dedicated care counselors who are committed to our mission of caring like sons and daughters. Executed with a thoughtful combination of touch and technology to help you and your parents while they stay in the comfort of their own home.
We work with leading global fortune 500 companies to make parent-care support available for their Indian employees around the world.
A care team like no other
Selected for their empathy, experience & background, our exceptional care-counselors are a unique aspect of Samarth's support.
We ensure that our care counsellors match the profile of families they are attached with. They are educated and resourceful local residents with a natural ability to connect with the elderly, caring for them just the way a son or daughter would.
Backed by our professional operations team, Samarth care counsellors take a proactive approach to look after the elderly under our care.
47
% of care counselors with Masters or PhD qualification
17
% of care counselors with BTech and/or MBA qualification
Elder Care, that is comprehensive, personalised and proactive.
We are where you need us.
We understand the needs of elderly, and of their children who care for them.
Subscribe to our Tailored Care Plans which come with a comprehensive suite of services, backed by your own dedicated Care Counselor and a team that takes responsibility like a true partner.
Our technology, proprietary tools and processes help ensure complete transparency and a high level of responsiveness that is extremely important when caring for elderly.
Hear what our customers have to say about us.
Anshula & Vinod Subramani
SOUTH KOREA
Manish, Ranu, Manoj & Madhup Sinha
UNITED KINGDOM
We understand the unique needs of elderly, as well as their children who want the best for their ageing parents.
Our plans are based on extensive research and deep experience of serving thousands of elderly to help them lead a healthy, safe and happy life at their own home. We recognise that needs of every family are unique and evolve over time. Our support evolves accordingly, ensuring that we have you covered all the way.
Plan options
Simple and flexible pricing and plans.
Billed Yearly
Billed Quarterly
To activate support for your parents in India:
Complete form at the bottom of page to have a discussion with our Care advisor

Samarth Care Advisor will contact you at requested time to discuss the situation

Based on discussion, you will receive onboarding instructions and payment details

The service will be initiated once your response is received
Our comprehensive services for elderly are aimed at helping them lead a safe, healthy, convenient and happy life.
Below are some of the key services we provide. In reality, needs are not limited and our team goes the extra mile to assist with whatever brings happiness and peace of mind to our members, exactly like a son or daughter would do. That is the SAMARTH PROMISE.
Health & Hospitalisation
Medical care and coordination helpline
Accompanied visits for medical appointments
Scheduling & coordinating tests, check ups, doctor appointments etc.
Second opinion from specialists
Surgery/procedure planning
Digitizing prescriptions and reports
Medical claims assistance
Nutrition and Exercise consultation
Local logistics & companion support in case of medical travel to major cities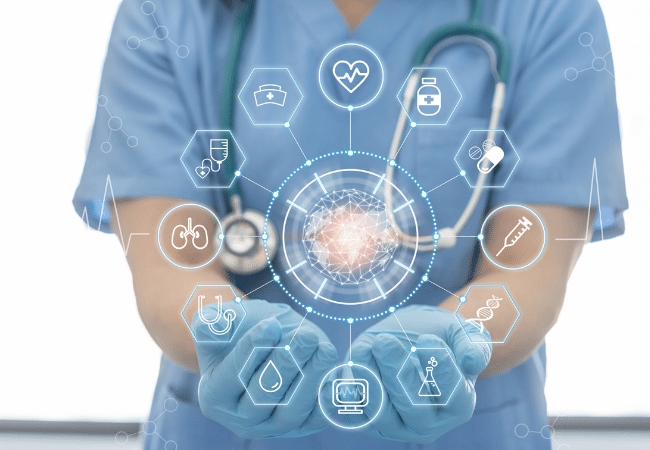 Home Care
Doctor consultation at home
Physiotherapy at home
Coordinated & monitored healthcare services at home (nurse, attendant)
Tele-medicine
Medicine delivery at home
Arranging medical equipment & device for rent/purchase
Post hospitalization care management, ICU, or chronic care at home for diabetes, nephrology, cardiac care etc.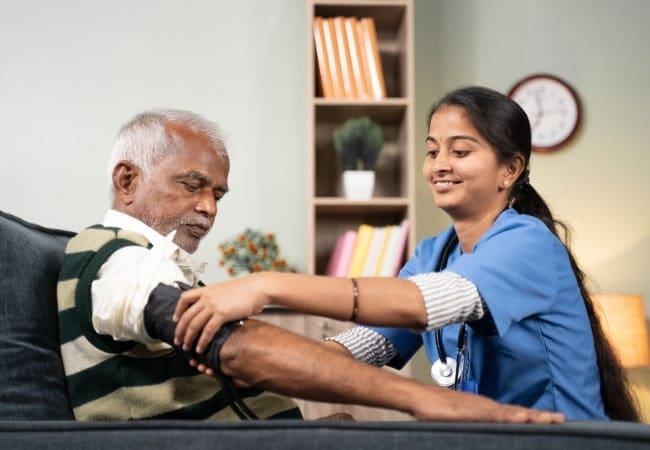 Convenience
Assist with repairs and maintenance
Grocery & food delivery
Arrange deep cleaning, pest control, laundry, dry cleaning and personal grooming services
Domestic staff selection, sensitisation and supervision
Arrange pujas, celebration and other house events
Assist with online and offline shopping
Assist with renewal and processing of government & utility documents (licenses, certificates, passports etc.)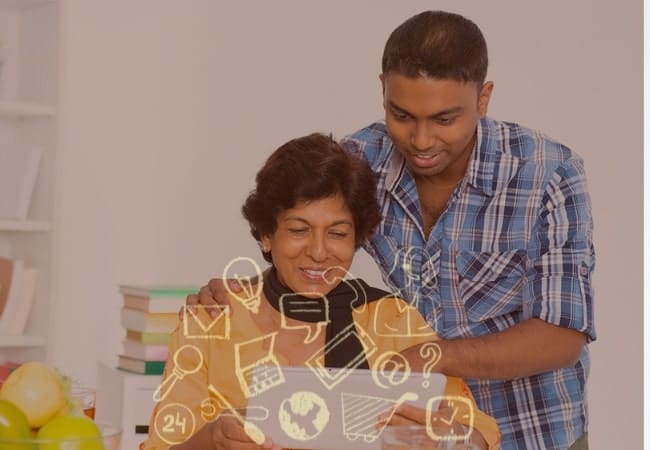 Finances
Tracking and payment of bills
Setup prepaid account to manage disbursals
Assist with pension processing
Banking & insurance support (home, vehicle. etc.)
Arrange legal, financial, tax planning, filing support through qualified firms/professionals
Assist with Will preparation and Property Management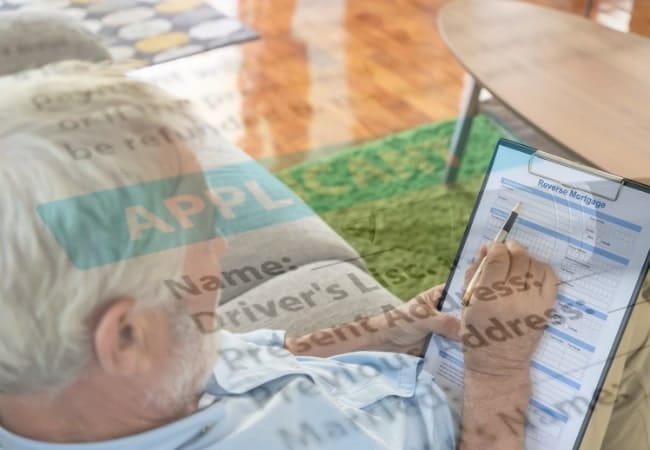 Social Engagement
Organise leisure & recreation, walks, reading and indoor games
Accompanied social visits (movies, shopping, place of worship, family events etc.)
Opportunities for learning new skills and hobbies
Organise mental & physical wellness activities, and counselling if needed
Video, online & in-person community meet-ups
Samarth accompanies group tours for seniors
Opportunities to participate in professional work, volunteering and social activities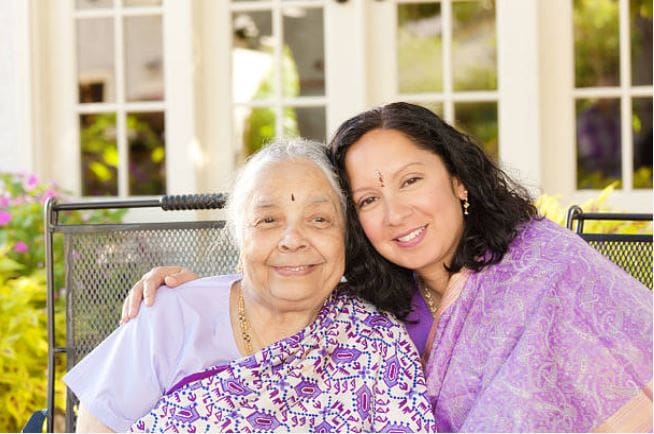 What our customers are saying
We are very proud of the feedback from the elderly and their children we serve for the services we provide.
You never give up on any challenges, short notices or urgent requests. I am deeply thankful to the Samarth team. I have no words to express my gratitude for the care you have given to our mother.
Vijaysree Gandham
AUSTRALIA
The services Samarth offers are out of the world specially for people like me who, despite living in the same country, are unable to be with the parents. Thank you Samarth!
Deepak Tekchandani
INDIA
You have founded an amazing initiative in Samarth. If it were not for Rashmi, our care counsellor, taking care of our father and his chemotherapy, we would have to personally travel to Mumbai to take care of everything. I don't know how you find such caring care counsellors.
Anshula and Vinod Subramani
SOUTH KOREA
My mom used to visit me and my sisters in the US and UK. We started with Samarth to ensure that she returns to a welcoming and clean home which is extremely important given her allergies. Now the Samarth care counsellor has become a good friend and companion for her.
Arti Caprihan
UNITED STATES
The Doctor was very happy with father's progress. He could not believe that the Samarth care counsellor is not the real daughter, given how she keeps tab on every detail and addresses him.
Harihar Laxman
SINGAPORE
Thank you for the excellent care that Samarth provided for our father. You were our trusted confidantes for nearly 2 years. The personal touch you provided was much appreciated by all of us.
Vijay, Ranjit & Umesh Rajmani
UNITED STATES
It was difficult to keep my peace of mind knowing my old mother is taking care of my father who is not well. I am so happy to observe my mum get a lot of support from our care counselor, Vijaya for all outings, doctor appointments, getting the landline fixed, etc. Kudos to Samarth. Because of all of you my parents are happier than before.
Lata Nair
DUBAI
I was sleeping only 2 hours a day in my night before Samarth support system gave me the assurance and peace of mind that my father is taken care of.
Sonia Gales
UNITED STATES
You have managed to achieve what I could not… getting Maa to agree to get the Echo done.
Thank you so much!!!
Simi Deb, IBM
UNITED KINGDOM
You and our care counsellor, are our guardian angels. So happy we found you. Thank you for everything you are doing for us.
Sunandini Lal
SINGAPORE
Initially, Dad was very reluctant to have this service. A year or so back I remember he told me that this was the best thing I could have done for them!
Indrani Chatterjee
UNITED STATES
Clearly Samarth fills up a huge gap in India, especially for people like me who cannot be there in person to care for our parents.
Rajesh Johar
SINGAPORE
Thank you so much for everything. We could not have managed this crisis without you. You are a real blessing for our family and we are really grateful to Arti and the Samarth team for helping us tide this crisis.
Sushmita Thukral
UNITED STATES
Samarth has gone way beyond and helped at times when we could not have ever expected that there would be anyone unless they were family! Including the time when our father was unexpectedly taken ill. We can never thank them enough, and would wholeheartedly recommend their services.
Manish, Ranu, Manoj & Madhup Sinha
UNITED KINGDOM
With Samarth we really get a feeling of love and care. These words are not feedback but my feeling to express how people from Samarth take care of seniors and how our care counsellor makes us feel. She is with us, always.
MRS. & MR. H.L. KAW
Parent in Jammu (Daughter in Singapore)
We are very happy with Samarth and they have given us a lot of support. Our kids are happy and their burden is less, they are relieved that someone like them is taking care of us. It has become easier for us to live comfortably as Samarth is there to take care.
MRS. & MR. VASUDEV RANA
Parents in Sonepat (Son in Australia)
I am very much satisfied with Samarth's support. I feel now I have someone a phone call away who can help with things I struggled to do because of my own handicap. Thankful for all the support.
MR. KRISHNA AUTAR
Parent in Lucknow, India (Son in Netherlands)
We are very happy to be with Samarth. They are there to take away my stress and my problems. My experience has always been very good with Samarth.
MR. G.P. JHUNJHUNWALA
Parent in Kolkata, India (Son in Bangalore)
Samarth team and Rashmi is very nice and helpful. Whenever I need anything, they provide it and Rashmi calls me and visits regularly. It was nice to read the Samarth magazines I received.
MRS. BIMLA KUMARI
Parent in Patna, India (Son in United States)
I am very much satisfied with Samarth's support. I feel now I have someone a phone call away who can help with things I struggled to do because of my own handicap. Thankful for all the support.
MR. KRISHNA AUTAR
Parent in Lucknow, India (Son in Netherlands)
For so many years, I could not leave my wife and go out as she was completely dependent on me. Since I have had the support of Samarth, both Nishi, my wife and I feel very confident with my travels. It is a joy to see Nishi laughing again and playing Ludo with Dipti, our care counsellor.
SHRI. RK SINHA
Parent in Gurgaon, India
We have been with Samarth for long time. They have lot of kindness, compassion and genuine concern for us, which is wonderful. Their little efforts on birthdays & celebrations are very touching. It's very reassuring to have them here.
MRS. & MR. CHANDRA
Parents in Bokaro, India (Daughter in Gurgaon)
We have had a great experience, availing the different facilities with Samarth. I am happy that we are taken care of like a family and I enjoy the care-counselor's visits who is  like a daughter to me
MR. A. RAJAN
Parent in Chennai (Children in Australia and US)
Meet the team
Our inspiration for establishing Samarth was taking care of our own parents. At Samarth, everything we do is put to a simple test:
'What will we do for our own Parents?'
‧ Gurgaon, India
‧ Houston, USA
Email: contact@samarthlife.org
Phone:
‧ India +91 8800306598
For corporate offers you have received through your organisation, please provide your official email id.